Haojin Shines at the 121st Canton Fair
Views: 5 Author: Site Editor Publish Time: 2017-04-18 Origin: Site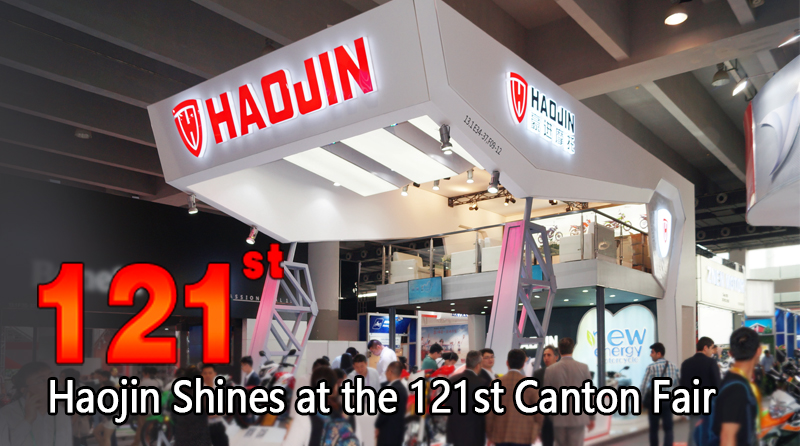 Canton Fair is regarded as China's "Foreign trade benchmark", where huge business opportunities exist in there. The 121st China Import and Export Fair (Motor Show) was held in Guangzhou Pazhou Exhibition Hall from April 15 to April 19, 2017.

Haojin Motor carefully prepared for this Canton fair, it set up a total of four product-display area in industrial park and Pazhou Exhibition Hall. Haojin showed 100 kinds of products. Whether it is the number of products or booth layout are beyond the previous scale in Canton fair. Haojin luxury lineup in Pazhou Exhibition Hall are led by the new vehicle ARES150. The other independent R & D models include: Prince vehicle TAURUS, FABIO, curved-beam motorcycle LYRA, off-road motorcycle HAWK, street sports vehicle EVO150R, ZEUS, RICO and so on.Some models are using the EFI technology and power show is presented by CBF200 and CBR300 water-cooled engine;At the same time, Haojin also launched clean-energy motorcycle series, attracting attention from a large number of merchants and winning praises from many customers.

As the forefront brand of Chinese motorcycle, Haojin promotes technology innovation, controls quality strictly and enhances brand image year by year, which makes its products become customers' favorite; Haojin continued to be awarded the honorary title "Recommended Export Brand" in 2017!It is also the best demonstration of affirmation from global users for Haojin product quality. The dual-display of Haojin's products and brand in the 121st Canton Fair fully demonstrated its R & D strength and persistent pursuit to quality, laying foundation for business development at home and abroad in the future, and winning a good respect for the endeavor of Haojin people!