Haojin Motorcycle on Stage of the 125th Canton Fair
Views: 10 Author: Site Editor Publish Time: 2019-04-09 Origin: Site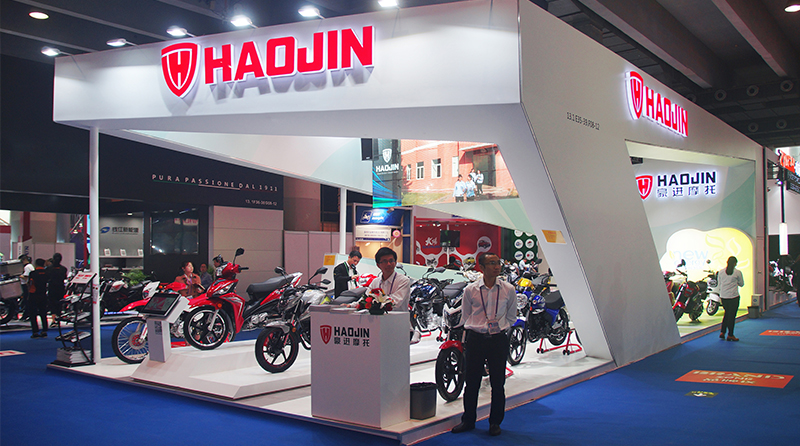 On 15TH April 2019, the 125th Canton fair was held at Pazhou International Exhibition Center in Guangzhou. The exhibition is the largest in the world. According to the official information, the Canton fair set up 51 exhibition areas, with a total of 59,651 booths. A total of 24,846 domestic enterprises and 650 foreign enterprises from 38 countries and regions participate in the fair. Among them, 21 were from countries and regions along the "" One Belt And One Road" ", with 383 enterprises.



In 2019, Haojin Motorcycle firmly adhered to the road of quality and differentiated innovation. In terms of engine, Haojin concentrates on the research and development of new engine models and new technologies, and strengthens the upgrading of existing engine technologies. In terms of complete vehicles, it plans to develop new series of vehicles to integrate intelligent and environmentally friendly design concepts. In this year's Canton Fair, Haojin Motorcycle planned carefully , with several independent research and development of new products, fully demonstrating the latest technology and research and development results; Prototype include: The latest development of the MIO new cub, new car including curved-beam motorcycle LYRA, street sports vehicle EVO Ⅱ, EVO, ARES, ZEUS, off-road motorcycle HAWK, Prince vehicle TAURUS, FABIO , new-energy motorcycle series and so on. During the the period of Canton Fair, our exhibition area was crowded with buyers. The whole series of new products integrates science and technology, environmental protection and high appearance level, so that buyers from all over the world were linger in front of the products and felt the unique charm of Chinese wisdom.



In order to take into account the business details of the global buyers, Haojin Industrial Park has set up another 4 product display areas to show nearly 100 models of new-energy motorcycle, motorcycles & tricycle and engine products. Especially the upgraded CG series engine products, with more powerful, low fuel consumption, small vibration characteristics, which has won praise from buyers.



For more than 20 years, HAOJIN has always been a star enterprise of China's foreign trade. As one of the largest motorcycle export enterprises in China, in 2019, HAOJIN will continue to take the Canton fair as the platform to increase the pace of "going out". Let the global users feel the charm of Haojin products and share the quality of Haojin!